Scored this from Hasbro's 2 figures for S$25 promo.




I'm impressed to see how far Star Wars have come with their articulation. Since picking up 2002's GIJoe's 3 3/4 figures, I've been wondering why Hasbro couldn't translate it to all their toy lines.

I'm glad that they finally came round to it in recent years, as evidenced in their Star Wars and Marvel lines.

This is all the figure comes with, which is sufficient to enact his final showdown on the Death Star.



The cuffs are quite over-sized, which is the norm for 3 3/4 accessories.




I picked this figure up cos I wanted a ROTJ Luke figure with updated articulation to take on Evolutions' Vader, as the only ROTJ Luke figures I still have are the POTF2 Jedi Luke with very limited articulation by today's standards and the POTF2 Final Jedi Duel Jedi Luke which is in a static pose. In short, they're very outdated.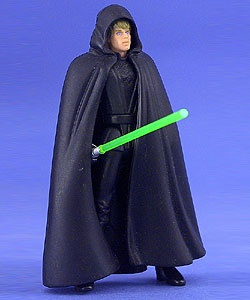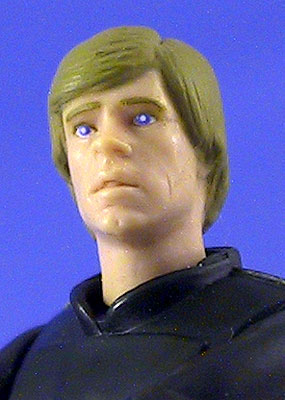 Speaking of the POTF2 Final Jedi Duel Cinema Scene, it was was one of my earliest Star Wars box sets and I loved it cos it captured one of the iconic moments from Star Wars...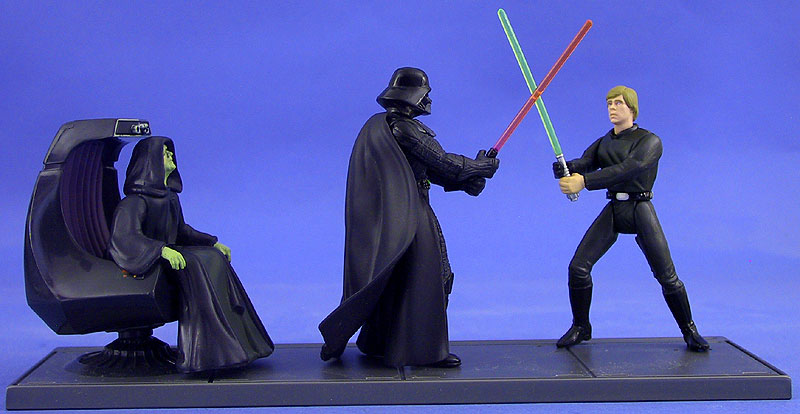 It seemed to be a good time to re-enact that scene with an updated Jedi Luke in hand, with Star Wars Evolution's Darth Vader and Star Wars Evolution's Palpatine already in my collection.

So here goes...



Dad taking Luke out for a walk in the park.



Palpatine trash talking Luke into beating up his Dad.



Luke taking the bait.



Luke showing of his excellent skills in overhead lightsaber wielding.



Luke being over-indulgent in a glamour shot.



Dad collapsing from exhaustion.



Luke slicing off the wrong hand in his excitement.



Luke telling Palpatine, "I'm a muthafookin' Jedi, like my father before me!"



Palpatine not taking kindly to a foul-mouthed kid.



Luke not enjoying the party streamers being thrown at him cos they're smelling a bit foul after being hidden in Palpatine's robes for a long time.



Dad's many hours of watching WWF in the 90s catching up with him, and he tries emulating Ultimate Warrior's signature move...



...and in the process, shows off his awesome balance.



"Dad, could you show me how to gorilla press slam like that?"



Luke seeing Dad's face for the first time...



...and realising that in all probability, he inherited his mother's genes.

Hasbro's Star Wars Legacy Collection Jedi Luke is indeed a fun toy to muck around with, even more so when you have the accompanying members in the Death Star II showdown.