Posted: Monday, September 15, 2008 by
Shaun
in Labels:
life
Check out TED's account of his sporting skills.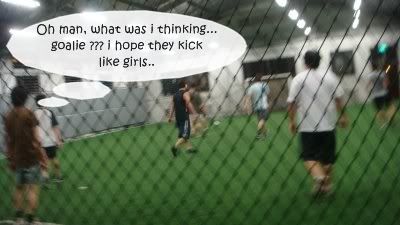 "While chasing the ball, I somehow tripped myself (heard of butter legs?) [Shaun's Note: WTF are butter legs?], fell and rolled over once or twice, bruising my elbow in the process. Zinc was asking me later what the heck was I doing. I was asking myself the same question, and I have not even tackled or touched the football yet ! 5mins into the game, and only ran some distance, I had the wind knocked out of me. I was literally breathless, so I volunteered to be the goalkeeper."

He's in need of some tender loving care (preferably female, but he won't turn males away) right now, so head on over and show him some lovin'.


tags:

toy blog |
toy collector |
toy collecting |
singapore