Posted: Wednesday, June 07, 2006 by
Shaun
in Labels:
superman
Incoming!




If all goes well (read: no bloody shipping delays), this item (US$59.99) will be reaching our shores tomorrow.

It's a pity this figure doesn't really inspire a repeat performance.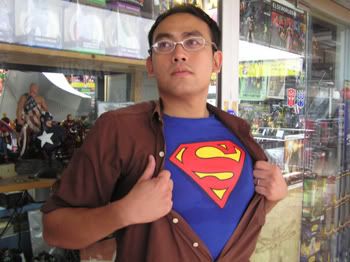 In other news, we have solid proof that Em is the greatest fangirl to ever walk this earth.

Here's an actual SMS from her.
"OMG. Just saw new superman trailer. I wet myself. At d front he flew thru elevator shaft at at d end he stopped a bullet with his f@#$ing eye. OMG!"

Ain't Em the COOLEST!


tags:

toys
superman returns
singapore